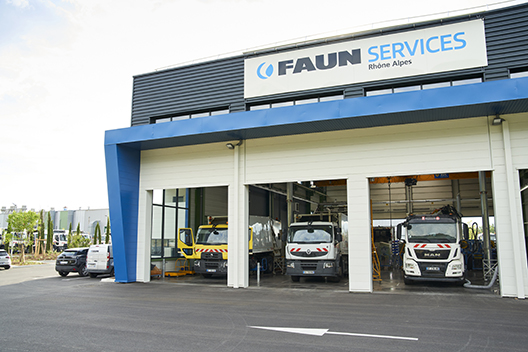 By completing its after-sales network with 2 new centres in Occitania and Pays de la Loire, FAUN is strengthening its regional coverage to better meet its customers' needs.
Because choosing a collection vehicle or a sweeper is a commitment,
FAUN SERVICES provides immediate support and repairs of equipment with original parts to guarantee the longevity of the RCVs.


FAUN SERVICES experts provide, throughout France, as close as possible to their customers, the repair of RCVs, the installation of options and tippers, and the repair of all makes of RCVs and sweepers in terms of electricity, hydraulics, mechanics, automation and boiler making.
VITEFAUN offers a rapid response in the Service Centres with a telephone diagnosis, or even the organisation of an intervention by the after-sales technicians who follow the customers. By calling the after-sales service on +33 4 75 81 66 68, requests are quickly dealt with by the assistance team, which is familiar with the equipment and customer files.
TECFAUN is dedicated to breakdown assistance for RCVs that are out of warranty.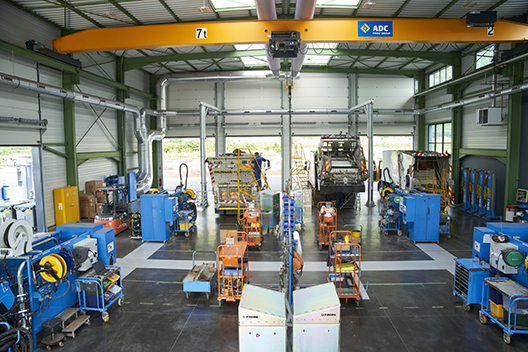 Le réseau

FAUN currently relies on 8 Service Centres located in Île-de-France, Languedoc, Normandy, PACA, Rhône-Alpes, Nord, Occitanie and Pays de la Loire..
They are open from Monday to Friday from 8am to 12pm and from 1.30pm to 5.30pm.

Rhône-Alpes
625 rue du Languedoc
07500 Guilherand-Granges
Tel : 06 14 26 91 49
Languedoc
ZI du Capiscol
4 rue Edmond Fremy
34500 Béziers
Tel : 06 11 49 72 71
Normandie
151 Route de Montfort
27370 Le Gros-Theil
Tel : 02 32 36 44 16 
PACA
Quartier Pichabert
83340 Flassans-sur-Issole
Tel : 04 94 77 97 98
Nord
N3 Parc d'entreprises
Rue de la Haute Deûle
62950 Noyelles-Godault
Tel : 06 34 04 13 92
Île de France
ZAE La Tuilerie
11 rue de la Cavée
77500 Chelles
Tel : 01 60 93 04 25
Occitanie
Bryn
ZA Lafitte
13 allée de la Gravière
31620 Bouloc
Tel : 05 61 82 56 56
Pays de la Loire
15 rue des Coquelicots
44840 Les Sorinières
Tel : 06 19 77 03 41

In addition, a network of selected partners throughout the country offers all the local services necessary for our customers' peace of mind :
Express repairs, advice, availability of parts, replacement vehicles.
The FAUN Centre network uses the latest hydraulic cleaning technologies to increase filtration performance and thus optimize the operation of the hydraulic system of the RCVs.
Maintenance contracts
Safety and expertise.
EXPERTIFAUN contract
This contract includes the inspection, adjustment and maintenance of the RCVs by the
technicians during scheduled visits.
PREVENTIFAUN Contract
Exclusive to FAUN: our technician also replaces the wear parts recommended in the annual maintenance. He cleans the hydraulic circuit 
by a portable filtration unit and the installation of the new element allowing a 12µm filtration.
Contract​ OPTIMAFAUN+
This contract includes all PREVENTIFAUN services and also offers repair services at the FAUN Service Centres.
It gives access to additional operations according to a personalised maintenance plan.
It also includes remote maintenance, i.e. a remote connection that
allows TECFAUN Service to carry out an immediate diagnosis.
FAUN guarantees short vehicle downtimes.
Training
Training for initial diagnosis
FAUN provides training courses for technicians and users at the Valence production plant on all its equipment, RCVs and sweepers.
Objectives of the courses :
Master all the principles of using the equipment, both in terms of operation and maintenance and in the event of incidents.
To master all aspects of safety.
Practical exercises on a simulator and on RCVs complete the programme. At the end of the training, an assessment enables each trainee to validate the acquisition of new skills.
In addition to the training at FAUN in Valence, trainers can travel to the site.
To find out the course schedule, contact the "Training" department in Guilherand-Granges :
+33 4 75 81 66 32
Satisfaction rate
The rating given by our clients over the last 30 courses is 9.4 out of 10.
(according to the satisfaction survey form sent to our trainees at the end of the course)
Certifications
Our training organisation is QUALIOPI certified, which enables you to obtain funding for your training courses.